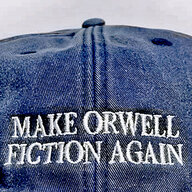 Joined

Apr 30, 2005
Messages

26,752
I got a one-month ban for breaking PS rules by posting disrespectful things to our theist members.
I apologize from my heart to those I've hurt and insulted.

In the future I intend to conduct myself with greater respect for our religious members when participating in permitted discussions on this topic.

At the time of my ban I was overwhelmed with grief and anger because my partner was dying.
I fully realize this is absolutely no excuse or defense, I mention it only for context.
What I wrote was wrong, offensive and inexcusable.
I have spent a long time grieving and soul searching.
Another reason I've stayed away so long is embarrassment over what I posted.

I love and miss the community here.
Andre and Ella have graciously permitted me to return.

I want to pick up the pieces, take my lumps, and rejoin PS.