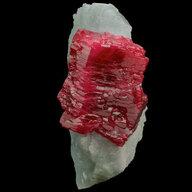 Joined

Dec 25, 2018
Messages

250
Hello friends,
I would like to ask for your advice on a little 1.01ct. ruby I found on Gemrockauctions.com
. I know this platform is not for the very best only and tends to attracts all sorts of vendors but I found what might be a little bargain - until someone snatches it before I do, but I am willing to take the risk
Here it is -
https://www.gemrockauctions.com/auc...vid-pigeons-blood-red-ruby-mogok-burma-881849
As well as a link to a youtube video -
My take:
- nice color
- clarity is hard to judge but apart from a little blue core I don't see anything too bad
- untreated burmese with Bird's blood pedigree from GRS which, for once, I almost agree with
- the cut is beyond atrocious so it will need to be recut but since it is at 1.01 it will of course go below 1ct.
- brilliance, on picture, is bad. Maybe recutting it will fix it
The reason I am considering it is the price, which at 1k/ct. is low enough to consider recutting it.
Any thought? Advice? Views?
Thank you all and have a wonderful weekend
VRed