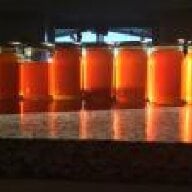 Joined

Apr 15, 2015
Messages

272
A little background on what I am looking for, since it's a little less usual. I'm looking for the largest light yellow diamond I can get for my budget, and I really want one that has strong fluorescence. This is for a RHR. I'm kind of a rock hound, so I'm looking for something a bit unusual, but still pretty (to my eyes).
I was offered this one (it's slightly under budget). These are the specs.
WEIGHT: 1.67ct
QUANTITY: 1
SHAPE: Pear Brilliant
COLOR: M
CLARITY: SI1
MEASUREMENTS: 9.83 x 6.61 x 4.20 mm
TOTAL DEPTH: 63.5%
TABLE SIZE: 56.0%
POLISH: EX
SYMMETRY: VG
FLUORESCENCE: Strong Blue
In indoor lighting:
In daylight:
It appears to have a bowtie, but I'm not opposed to one. I'm concerned that it won't appear yellow when set, but more tinted as it is graded an M. I love the color change, however.
Any thoughts?