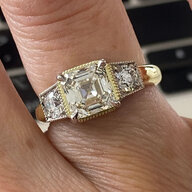 Joined

Jun 25, 2019
Messages

285
I am eyeing off an amazing F colour VS1 Asscher (just under 1ct) but just as I was thinking of jumping on it, I had a brief thought this morning: is there any point in buying a step-cut MMD? If bang-for-buck is what draws us to MMDs, does it make more sense to buy a brilliant cut?

I guess what I'm asking is, if MMDs offer a cost-effective solution to have a diamond for all its beautiful characteristics, should one be buying one that has maximum fire/brilliance?

Yes, it should come to personal taste but curious what others think. Any lab Asscher owners out there?