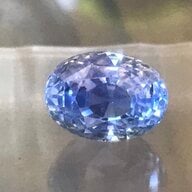 Joined

Jul 14, 2020
Messages

281
I pulled this stone from a stud earring because I had lost the other one. Tested as a real stone and feels cold. Seems almost the same colour as my aqua marine but slightly more light blue. The camera is NOT picking up the colour correctly. I took a pic next to my aqua (which also won't show colour in photos but is on the pale slightly greener side of aqua's. The little one is bluer.
I will attempt more colour accurate photos but was concentrating on getting the small stone in focus more then accurate colour.
I know lots of light blue coloured stones can present like an aqua so I didn't want to assume.