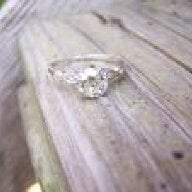 Joined

May 15, 2012
Messages

543
So we got our proof back for our invitations today... and I don't care for some of the wording she added.
Here is what she has:
Your love and friendship have
helped us become who we are
We invite you to share in our joy as we
exchange vows and celebrate our marriage
Antique Sparkler
and
Mr. Antique Sparkler
Invite you to share in their
marriage celebration
Saturday the Sixth of September
Two Thousand and Fourteen
Time
Location
Dinner and Merriment to Follow
I really dont like the part that's bolded. Can I remove it or does that sound silly? I just think its clear in the 3rd and 4th line that they are invited... Any suggestions for soemthing that could be said there?
The invitation is from us (not our parents or anything).
Help!

Thank you!