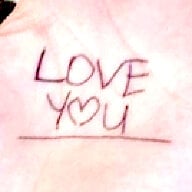 Joined

Sep 23, 2011
Messages

5,294
Hi fellow sufferers of LIW-itis :p
I've been a lurker here for 1 year+, so I'm finally making my first official post after finally opening an account last month to view the Preloved section (I'm sure PS has appreciated a sudden exponential increase in registered users in the last month lol).
I originally found PS after we got scammed through an eBay purchase whilst purchasing my first mini "bauble" (i guess it'd be similar to a "promise ring", but I hesitate to call it that since it reminds me of grade school). We purchased a 1.02 carat, F radiant that was clarity enhanced to a SI1... Took it to a local B&M jeweler to confirm the specs, and viola! It's a piece of junk.. It wasn't even a warm yellow tint, it was a murky brownish tint with carbon spots and bubbles all in it.. The jeweler was shocked they even wasted their time clarity enhancing it.. Thank GOD for PayPal protection.. So we instead got a GIA cert'ed, much smaller, but less.. "rock".. stone
Anyway, I've learned ALOT about diamonds in the last year of obsessing and pressing F5 on the "Show Me the Bling" side, hoping for more blingasms.. I think I have a problem
but there's a never ending education provided here!! And I feel I can never learn enough :p
So, enough history, onto "us". We've been an "us" for almost 2 years now. We're both relatively young (in our mid 20's). HE was the one to actually bring up the whole marriage/future talk.. So I guess I got saved from that burden. He wants me to wait until I'm done with school, though, before he proposes, and he won't clarify if that's when I'm done with which level of schooling >:O. I feel crazy, asking him what feels like daily!
So I'm hoping to get to know a few of you ladies, and vent with you all
and hope that this upcoming holiday season brings plenty of LIW sign-offs <3. My stay is anticipated to be "longer", so I'd like to see how many spots I move