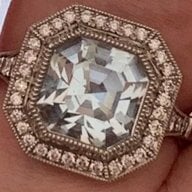 Joined

Nov 16, 2015
Messages

1,108
I have started up my Interview Series and live events with vendors again on the Reddit moissanite page r/moissanite. I have shared many of the interviews in this group but I haven't posted one since last year. I thought I would start up again as they are really informative. I also just interviewed Caysie from CVB and since she is used so often here, I thought it would be fun to start sharing again. This one is from Amy at Forever For Love on etsy. They are in London and this gives another option in the UK.
______________________________________________________________________________________________________________________________________
I spoke to Amy from ForeverForLove on Etsy located in London/UK:
*Tell us how you got started with your etsy jewelry store?*
Many years ago, we had Jewellery Store in Cheltenham creating custom jewellery. It was a joy to make thousands of ladies happy and after taking some time off to travel, we decided to open a store in London but the COVID19 situation got in the way, therefore we decided to launch an online store until everything returned to normal.
*What do you love about moissanite's and why did you want to include them in your shop?*
When we had the physical store, we frequently ran into the dream vs affordability problem because of the high cost of diamonds. Lots of customer's wanted larger stones and the diamond costs were prohibitively expensive, but back then we didn't consider Moissanite as an alternative, so had to let many settle for smaller stones. This time, thanks to the work by Charles and Colvard, moissanite has become a worthy alternative to diamonds. In our opinion its brilliance matches that of the diamond's and on top of that they are widely available in many cuts and shapes. Now we can easily create jewellery that matches our customers' dreams within their budgets.
*Can a customer design their own ring or do you work with semi mount's for the projects that you create?*
We love making custom designs! Many customers come to us with a concept they have in mind or an inspiration picture they saw somewhere. Once we have a good understanding of what the customer wants, we create CAD models to help them visualise and double confirm that our understanding matches their's. When the customer is happy with the CAD, we start creating the custom piece.
*What have been some of the favorite rings that you have made so far?*
My favorite rings to make are my floral designs, birthstone mixes with moissanite rings, vintage bands and our twist bands
*What do you see as trend's for 2021 with engagement ring jewelry?*
From our experience, we are seeing a rise in split shank designs and knife edge bands are also beginning to come back. There is also a demand for colourful stones mixed with moissanite centre stones.
*The moissanite industry is much smaller in the UK & Europe. Are people now discovering moissanite?*
Yes, moissanite has become widely accepted as "the" diamond alternative. Ten years ago, we never had a customer asking us about Moissanite, now most of our customers are aware of the environmental, ethical and the cost benefits of moissanite.
What makes your company different than some of your competitors?
1. We are very grateful for the trust our customers place in us and we will try our best to rectify issues.
2. Our work is quality stamped by the UK Assay Office.
3. We are able work within most customer's budgets
4. Over the years we have built up close relationships with rough manufacturers and stone cutters and majority of our stones are cut by hand per customer specification.