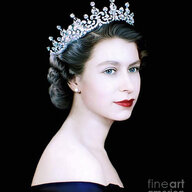 Joined

Oct 24, 2012
Messages

5,242
Hi all! So seemingly this is a super rare phenomenon & I thought I'd share.

Yesterday mid-morning, whilst I was putting my boots on, the high window in my hallway exploded. I crapped myself, and then got a bit stressed a Buzzard may have hit it, which happens every few months, so went outside to check. No Buzzard, no broken glass. On inspection it turned out it was ONLY the inside pane of double glazing which had broken inwards, all over my stairs. Freaky, right??! So now my brain is going wild about Poltergeist's and the Mothman. Called an emergency repair company, who came within the hour to remove the broken pane & board it up.

So here's the interesting part. When the outside temp suddenly drops, which it did from 11c the day before to -3c overnight, and the heating cranks up, it can cause something funky to happen to the argon gas inside the 2 panes, putting pressure on the warmer pane only. Then the sun hits the outside (south facing window) This causes the warmer pane into implode! The glazers have only seen it once before, so were super excited. And today, right on time they returned with my new window, so the last picture shows it fully back to normal.

Thought I'd share in case this ever happens to you, so you won't start ghost hunting!