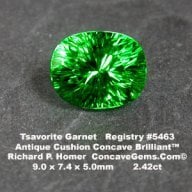 Joined

May 14, 2003
Messages

285
Hey all,

Some of you may remember my insurance issue regarding my wife's broken/cracked diamond.

It is a GIA certified emerald cut diamond, 1.36, F color, with a very good cut.

I had to send it to the insurance company diamond expert/lab, and they have now offered me the diamond THEY found, after looking at the two appraisals I sent them. One from a local independent jeweler, and one from the jeweler we purchased the diamond from originally.

Both jewelers independently put the replacement cost @ $10500.00 + tax.

My insurance company has offered to replace the diamond with a comparable one(according to them) that will cost them 9300.00.

I still have to discuss this with the agent, although I briefly mentioned the importance of the cut and shape of the stone. I also mentioned that I was extremely particular about these things and not any stone will do.

Any thoughts on how to get this across clearly to them?

Should I ask for the GIA specs on their replacement stone or should I just argue up the amount to what it will cost me to replace the stone locally?

Advice and opinions are appreciated.