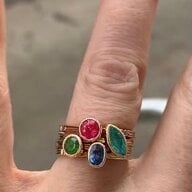 Joined

Jul 9, 2020
Messages

55
Hi All,
I'm doing my first project for my upcoming 40th birthday and would love some opinions. I've been slowly collecting small, rare gemstones and my plan is to create stacking rings with them. I'm starting with 4 rings this year (for my 40th) and then will collect a new stone and make a new ring each year for my birthday going forward so I can mix and match. I've already engaged DK and we've gone through a few CADs. I'd love the benefit everyone's aesthetic and expertise.
Here are the specs of the stones I have (I'll attach better pictures later):
Demantoid (Russia) – 4.4mm; round; 0.38 carat
Paraiba Tourmaline (Brazil) – 7.63 x 3.52mm; marquis; 0.40 carat
Cobalt Spinel (Vietnam) – 4.84 x 3.52mm; cushion; 0.40 carat (with GIA) - has a window but the color is gorgeous!
Bright Red/Pink Spinel (Burma) – 4.7mm; round; 0.47 carat
I asked DK to base the design on another ring he did (see below) and he came up with the following CADs. I like the "architectural look" of the engraved lines -- is it going to look too busy IRL? Also, I'm trying to decide what metal(s) to use. I frequently wear white, yellow and rose gold so I was thinking about making each one a different metal but couldn't decide. Do you think certain gemstones/colors coordinate better with certain metals?
DK says that the bezel will be thinner and less chunky in real life -- I would like plenty of light to come through while still protecting the stones. Any other input on the CADs is welcome and much appreciated! Thanks all!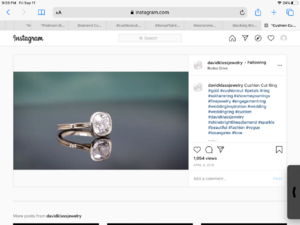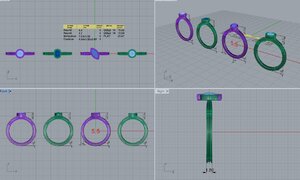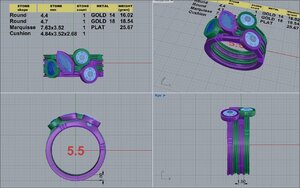 Last edited: