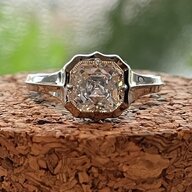 Joined

Mar 2, 2013
Messages

6,292
Forgive me if this has been discussed, but do any PSers have any they care to share?
I just got (yesterday) a new tattoo on my left foot; I only have one other small one. This one was done to commemorate my daughter's 18th birthday yesterday (she got one also ... an 18th bday bucket list item) as well as my birthday later this week. We are both Cancers, are two peas in a pod, and I like wine.
I also really wanted to get the cancer constellation, but with diamonds in place of the stars, but it wouldn't be big enough to make the diamond detail doable.
Mine is attached; DD doesn't want her's posted for personal design reasons. But it was fun & memorable to share that experience with her on her special day (we did other bday celebratory things earlier in the weekend).
Show me the ink, if you're inclined ... and share the story/meaning.