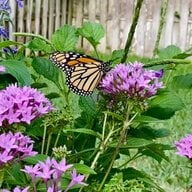 Joined

Oct 13, 2018
Messages

248
I lost my mother this summer. My sweet, fun, feisty, silly, exuberant, generous, charitable, courageous mom. It's been so hard! (Understatement.) I'm now searching for a piece of jewelry to wear in remembrance of her.
Since the day she passed, my husband and I have been noticing butterflies, and we're associating them as a sign of / from her.
Though I would typically never wear a butterfly necklace, that's what I've decided on trying to find. It's tough because I'm so picky and wear very little jewelry in general. I prefer silver or platinum or white gold, and for the style, if not very simple and easygoing, then on the edgy side, not too dainty… and apparently cool, edgy butterflies are hard to come by ; ) I may need to get creative to make it something I'd like, layer up necklaces, or find some interesting vintage piece. I've looked at literally thousands of butterflies (not just pendants, I'm open to charms or bracelets or key rings too). and I only like a few so far!
I'm surprised I love this Tiffany diamond encrusted one so much - but I do. It's retired I think and thousands out of my price range. Except for one lucky person I saw nabbed one for only $360!? The seller was either feeling very generous, or forgot the zero at the end! I so wish I could find a deal like that.
If anyone has any ideas for where else to look, please share? My budget for now is in the hundreds, under $500, preferably. I've been checking for preloved options mostly at eBay and the like - I'm sure there are some great smaller antique and preloved dealers out there that I'm forgetting or don't know about. My mom's birthstone is opal and she also loved pearl and turquoise, so I'd consider all of those as elements, or just metal. As I mentioned I wear silver/white metal for the most part but I'm open to other metals, or a mix. Thanks!!