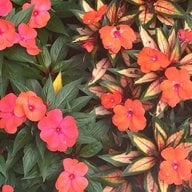 Joined

Sep 16, 2007
Messages

1,241
Poor
@Neil
. Being friends with me is impossible, insane, and maddening, I know. 2-3 years ago I started looking for a 10 year anniversary ring. I wanted a 5 stone, then I wanted a large solitaire, then I wanted big studs, then I decided I didn't need anything. As all of you know, Neil is the master master master at finding impossible ebay finds. She found this cluster ring with a pretty dark center sapphire. She loved her for awhile, and then I decided I needed her. I toyed around with replacing the center stone, which was very pretty but never really did it for me. After much deliberating, I got the okay from Neil to take her apart and use her (insane, firecracker, unbelievable) melee for a 10 year anniversary band. I sent her to Grace who helped find me a matching 10th melee stone (cluster only had 9) and we started working on CADs for a delicate band with lots of prongs. Back and forth we went, and nothing felt right. So I figured it wasn't meant to be and had the stones sent back to me.
Fast forward a few months, I woke up one morning and knew exactly what I wanted. She needed to be a band with milgrain walls. Lots of engraving. A tank. Heavy platinum. I contacted DK who said no problem. She was done in a matter of weeks. Choosing the engraving patterns I wanted was the hardest part. I literally approved the very first CAD!
Before: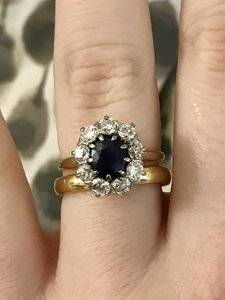 Gorgeous, but too flashy for me.
After, introducing Kate:
1.40tcw uncerted OEC stones, approx 3.2mm each. Size 7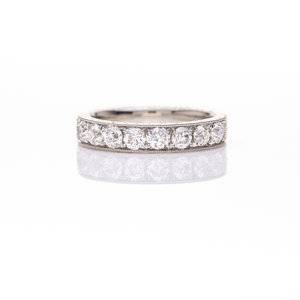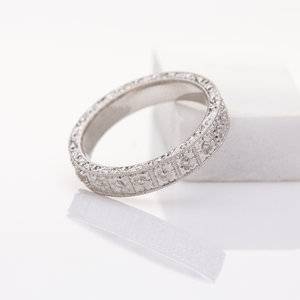 I mean honestly, THE ENGRAVING.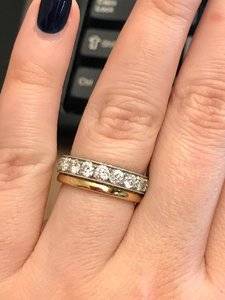 So I'm like cool, anniversary present done. I decide 2019 is the year of (larger) studs and I put myself on a ban. What does Neil do? She sends me the most amazing ebay listing for a ~0.70ct Duchess marquise cut with a ruby halo. What am I supposed to do? Not buy it? Not really an option.
When she arrives, it's like fireworks and love at first sight. The stone is incredible. Workmanship is glorious. Seller sent it to me in the amazing antique box even! However, I am an east-west freak. I want everything to be set EW. I went back and forth, and in the end, I sent her to DK to be reshanked set EW. I know some people will prefer it with it's original orientation, but I haven't even seen her reworked in person yet and I already know I made the right call for me.
Set North-South: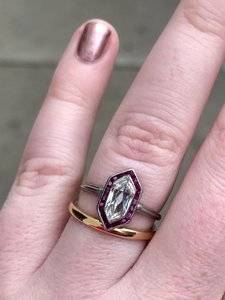 After -- introducing Zelda (named by my husband because it's shaped like the coins in the Zelda video games):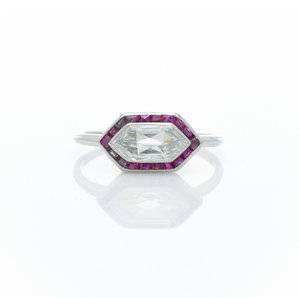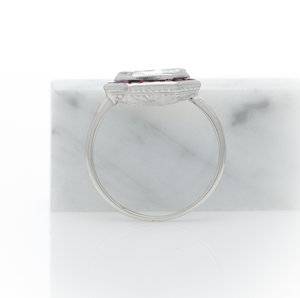 I still don't have her in my hot little hands yet, but I will post 9,000 more pictures when I do. I told DH our love was so strong it needed to be represented by 2 anniversary rings. He snorted and asked me how many engagement rings I have had in 10 years and is that why we've been so happy together. I obviously said yes, it's because I buy lots of diamonds. He said well I guess I better just continue to not ask any questions, yeah? Smart man.
More pics to follow!