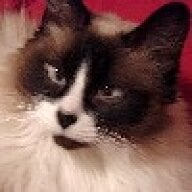 Joined

Feb 28, 2007
Messages

2,146
The BB garnet arrived last night and I will have a photo shoot with it today and tomorrow in different light conditions, as my camera will allow. BB was nice enough to include a temp setting in a yellow-goldish color and some Garnet rough from Tanzania, which I thought was a fun touch.

I picked it up at my parent's house last night and I thought it was too dark out of the package, however, my father reminded me that the lighting in their house stinks and encouraged me to play with it before making a decision. So, I walked around with it in their house and tested it out. In some conditions, the stone demonstrated a subtle orange color. When I placed the stone placed near to a 100 watt bulb IRL, it displays color close to the photo online, maybe a bit darker, but the stone displayed an orange-red color. In the bathroom, where it was bright, it seem to glow red (not bright ruby red, but mediumish red). In other words, I could see evidence of the color shift, as BB stated in its description. In my apartment, lighting seemed to bring out the red in the stone. What I have also noticed is that colors in the room itself will influence the color the stone displays. My parent's bathroom has a cranberry/pinkish color scheme, which I think brought out the red. Their living room is void of red, but has more "earth tone" browns/beiges, resulting in the stone displaying more orange. Walls in my living room in my apartment are a red-orange color, hence the stone displayed a vibrant red/orange color. However, I suspect there is a problem with my theory, as the stone displayed a deep red in my bright white bathroom - perhaps light has more to do with the color shift then.

This afternoon, I placed the stone in direct sunlight and the red was quite strong, as the stone seemed to come alive. Though I have not taken it outside (too cold), I suspect the stone will perform very well. Additionally, I suspect it will do very well in retail store lighting. In indirect sunlight, in a partially sun filled room, the stone does display a med to dark red with flashes of orange through out, depending on how it catches the light. In other words, it does not look like a dark/lifeless stone when not in direct sunlight, as long as there is some sunlight available.

The cut is very interesting as light seems to "dance" inside of the stone (sorry, I do not know all of the correct terminology to descibe how light bounces through the stone). In direct sun, I saw countless flashes of fire, which I hope I will be able to capture with my camera. It probably would not be the stone of choice for lower light conditions, however. I am not an expert in any of this, so I am not sure what more I should expect from a $162 Malaya Garnet (7.3mm), with a BB cut. All in all, the stone has done a good job entertaining me! It should be noted that all observations were taken while the stone was in its temp setting.