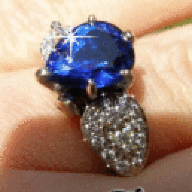 Joined

Feb 27, 2006
Messages

935
Hello EVERYONE! I finally made it over here!! I''m engaged.

Celebrating the past couple days has been fun, but I asked a good friend of mine who lives over seas to be a bride''s maid and at first she was all excited and the next day she said I don''t think I''ll be able to. I told her I wouldn''t be able to buy her a flight over, but I could help with accomodation, and food all they would have to do is pay for a flight. I''m not annoyed at her money issue, I know she''s trying to make it on her own, but what has upset me is that I''m giving her a whole year and a half notice and she''s atleast could try to put alittle money away each month for the trip! It''s like she doesn''t even want to try and it hurts really bad. I based the wedding on August so everyone would be off from school and I''ll be a school teacher soon. She''s a special friend of mine and if it was the other way around I would try my hardest to be there for her.
It works out to be 28 POUNDS per week for her to safe and I don''t think it''s unreasonable to tempted to save that.