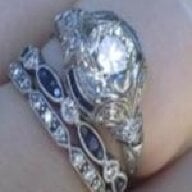 Joined

Aug 25, 2009
Messages

7,863
To make a long story very short my wedding day 6.5 years ago was horrible. While it was a lovely day mid winter at a great B&B up in New England the crazyiness of family, a military husband and a very unhappy MOH and MOB realy ruined everything. I pretty much cried about everything. DH and I really wanted to elope to Europe and have a private ceremony just us. Because I'm the only girl in my family and he is an only child it just never happened.
So fast forward 6.5 years later. We are now moving to Europe with our 2 kids. DH brought up the idea of finally doing our dream ceremony. We have been semi serious about it for a little while but now that we are moving there we are kicking it up into high gear.
Anyhow my vision:
Just me, DH and are 2 kids in a castle garden ceremony. Running around the place with our photographer. We will have cake and flowers but besides that no real thrills. We just want it to be about our little family.
While I adore Jenny Packham dresses I'm a bit more "shapely" then they allow so I ended up going with a Vera Wang dress for structure and support. I really wanted it in blush as this is not my first rodeo but found an amazing deal on a white one instead. I might try to dye it but I'm not sure how fearless I am with that one just yet.
Found a beautiful flower girl dress on pinterest but can't seem to find how to buy it anywhere

so I think I might go with something close from Etsy. The front will need to be changed around.
For flowers I thought I would either do some cabbage roses or fabric flowers. There is something so beautiful and vitage about them.
Ekkk anyhow i'm really excited to renew my vows so please excuse my long rambling post....I don't think I was this excited the first time round!