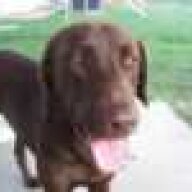 Joined

Apr 16, 2009
Messages

46
First I just want to say Hello!

I have been reading your posts for a few days and you all seem like such nice people I just wanted to ask you a few questions and vent.
I have been dating my bf now for 4 1/2 years and living together for 3 1/2 years. I want nothing more than to get married and have some babies. My bf has known this since day one and says he wants the same but never does anything about it and it''s getting really frustrating! The fact that we have built this life together is wonderful but I just want the security of being married; is that so wrong? I have given him til June to ask and told him I don''t even need a ring, I would be happy with him just asking, but he refuses to ask me with out a ring. June is quickly approching and it just seems like he isn''t even thinking about it

Everyone keeps asking me "what are you going to do in june? You know he''s not going to ask you, are you going to kick him out or what?" I don''t know what to do. I love him and don''t want to leave him but if it goes past june and I do nothing nothing is ever going to happen! To put the cherry on the cake one of my bestfriends is getting married soon and they haven''t even been together more than a year and everytime they talk about the wedding I can''t help but say something or feel something about my bf and myself and they don''t want me around any more b/c it''s annoying. What should I do?