Joined

Apr 17, 2018
Messages

43
Hello everyone!

3 months ago, I posted in RockyTalky asking for a jeweler to help set my new

WF

ACA

diamond into an engagement ring. Today, I'm happy to report that I received the ring this Monday and haven't been able to take my eyes off it since!

This diamond is actually an upgrade from a previous diamond just under 1 ct. My husband asked me what I wanted for our anniversary, and we finally decided on a ring upgrade. I liked the previous diamond from

bluenile

but would definitely not say no to a halo, or to a

WF

ACA

(thank you Liza at

WF

for a seamless and great experience)! Plus, the

bn

solitare claws looked like the end of staples, I've been eyeing the pointy claws here on pricescope for ever. Basically I wanted a Harry Winston The One with better craftsmanship minus the price tag
. A handforged round halo it is! I particularly love round diamonds because of their brilliance and shape. It's a personal preference, and I'm a bit influenced by a beloved musician. Anyways...

I'm not too keen on customizing the ring design and just wanted something elegant, dainty, shiny, and comfortable to wear. The setting would complement the center stone instead of being overwhelming and all over the place. I'm also a neat freak, so not crazy about wiring, rotating bands, intricate flowers, etc. They sure look beautiful, but I'd love something that's beautiful and easy to clean (having a magnasonic helps!).

Thank you diamondseeker2006, who introduced Maytal Hannah to me in the LA area. I looked at her website and really enjoyed browsing through her hand sketches and videos. Our email correspondence must've lasted more than 50 threads, this speaks to her patience and timeliness in answering all my questions! I was of course nervous about working with a jeweler I only knew by reputation, but I think Maytal's knowledge and positivity was able to clear any uncertainty and doubts for me. From the way she replied to my questions, no matter how big or small, I felt that I could trust her expertise in designing and forging the ring. My husband and I met her in LA when we dropped off the diamond, and she showed me an oval halo and a round halo with different metals. I seriously was almost blinded by how much they sparkled in the sun, and I had shades on. She also brought metal ring sizers so that I was able to pinpoint the exact size I wanted, which was slightly smaller than 5.

Throughout the time we worked together, she was very accommodating, and eventually got down all my requests perfectly! I wanted a secret diamond inside the band, no micropave along the donut, and a 2mm band. She nailed them all and the band is rounded, so it's really comfortable to wear. The entire ring sparkles so much it's like a fireball! There really is minimum metal and all I see is bling everywhere. The thin halo around the center stone increased finger coverage by a lot. As I said to Maytal, the ring grows on me every minute.

Perhaps the only "down side" is, this new halo ring is so dainty that my van cleef & arpels wedding band looks bulky sitting side by side...


I wrote too much in my excitement. Enough said. Photos!!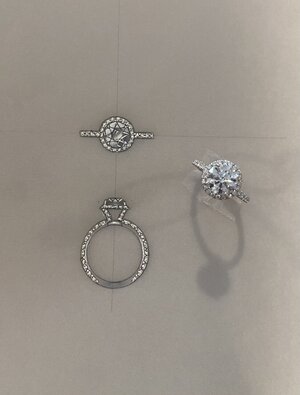 There's no way for me to tell that's a G color diamond!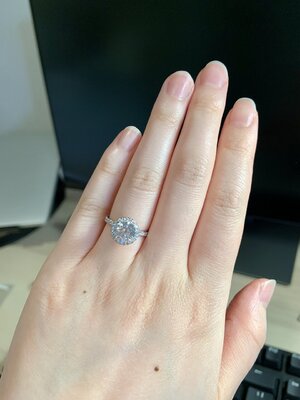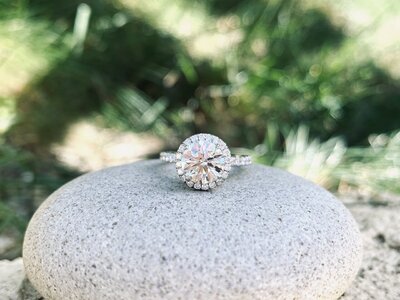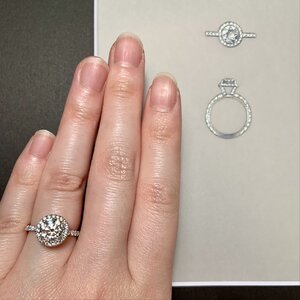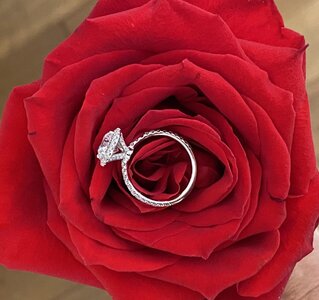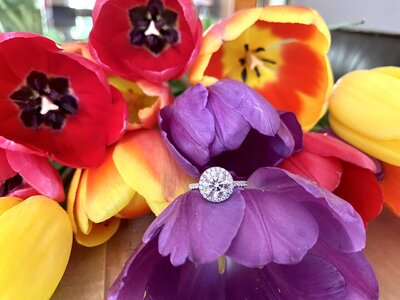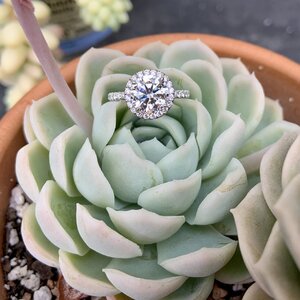 Bearpaw series!
The secret diamond shot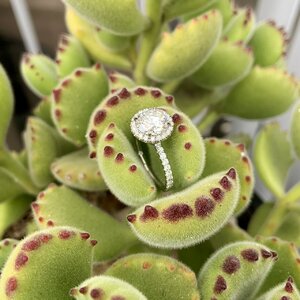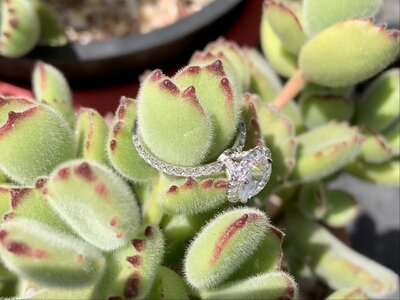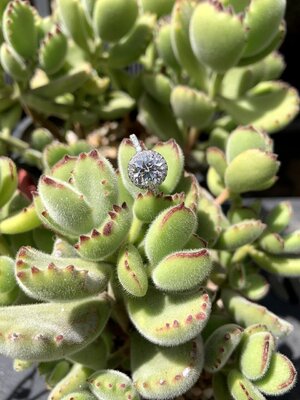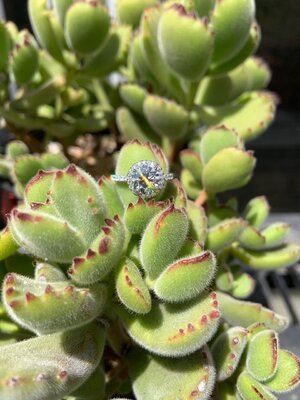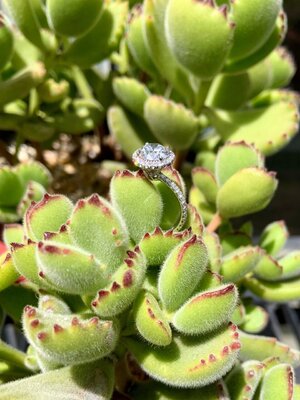 Some indoor shots: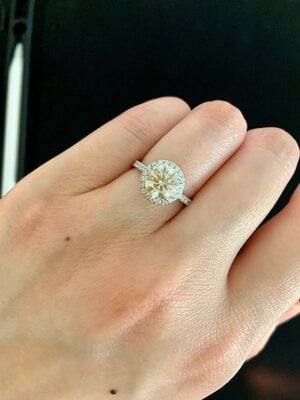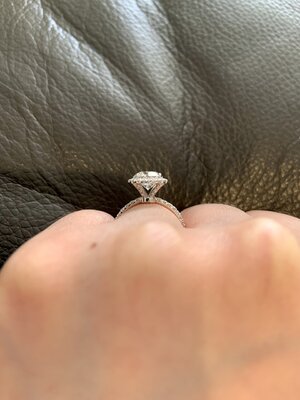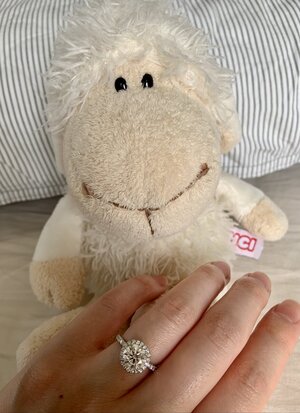 Thanks for reading, and thanks again to everyone who offered me precious suggestions. Much appreciated!
Here's a link to Perfect Circle, in case anyone's interested in some Lo-fi music.
Perfect Circle
~~
You say a circle is a flawless shape
Every part equi-distance from the center
On the arc without a start or a finish
~~
-- Nujabes