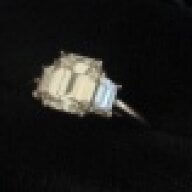 Joined

May 15, 2005
Messages

2,360
To a baby girl Westie. I must say, having seen Portia a few years ago (Mara''s pup) I fell in-love with the breed. For the past two years I have been researching the breed, fostering dogs, and now that I am moving to California (back home) in two weeks, this past weekend on a trip home, fell in love with a 2.5 month old Westie girl....So adorable.
My parents just called to let me know that she was just purchased from a cute place called MoonDoggies .... and that I have a plane ticket for a quick trip home on Thursday...
They are taking some photos in a few hours...but I wanted to share the news with some of my best friends....on PS!
Her name is Lula May Hayes-Fowler (Lula Mae for Breakfast at Tiffany''s), May is spelled this way for my favorite rock guitar god...BRIAN MAY! I am an odd nerd