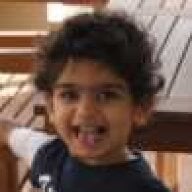 Joined

Jan 3, 2005
Messages

1,260
Hi Everyone!
Well I am now a proud mother of a wonderful baby boy! My due date was May 2nd but i always knew in my heart that I would deliver earlier than expected and sure thing i did!
my son was born on April 10th at 12:41 pm (same day as my brother''s birthday!). My water broke early morning on the 10th, at 1:40 am to be precise. I had no previous contractions or any symptoms... I was actually working late in the office that day and then went out with friends for dinner and got back home at 11:30 pm! so glad my water didnt break at the restaurant..
needless to say, waking up to ur water breaking is a bit scary as u have no time to ''mentally'' prepare that urgoing into labour...i was in the hospital by 2 am (since my water broke and even though i had no contractions i had to go to make sure everything was ok)....11 hours later and my healthy 3.1 kg (not sure wat the converts to in pounds) was born thru natural delivery (with the aid of the most beautiful drug in the world
epidurl..though i requested that they dont put the max dosage as i still wanted to feel the contraction and be aware of wat is going on and be able to be helpful during the ''pushing''...)
He is now 11 days old and i fall in love with him more and more every day...My heart just melts when i see him sleeping and i''m sure all new mothers will know exactly what i mean when your time is here..
I would also recommend to those who have not bought/read the book to get a copy of the contended little baby book by Gina Ford. It is very helpful and helps guide new mothers on how to feed/bath/sleep the baby.
Anyhow, i have to rush as he has woken up for his feed.
Good luck to everyone else who is waiting their turn! It truly is a wonderfu thing to see ur baby after carrying him/her for 9 months.
(sorry if there are typos, but i was speed typing to make sure i can post this before he wakes up)