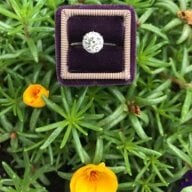 Joined

May 25, 2016
Messages

309
This message board seems generally fond of OECs.

For the ladies who chose OECs as their main ring/engagement ring - do you have any regrets in choosing an OEC over a round brilliant?

I like the look. I am fairly confident I can get one that is "white" enough. Etc. I think I'd be happy, overall.

I think my only concern is - what if the final product sticks up too high? (Like, up too high from the setting.)

I'll google - but maybe PS has a thread where there people show their OECs/settings from the side?

I suspect I am borrowing trouble once again. I have looked at a bajillion pictures and I think I like OECs plenty.

I am planning to have the setting made, so none of this is something I can really try on for a quick comparison, etc.



Wondering if people who wear OECs daily have any regrets or desire to switch back to a RB?

Do you feel they sparkle enough, in general?