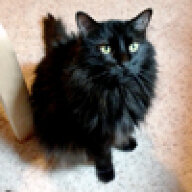 Joined

May 20, 2012
Messages

19
Hello Psers! I would appreciate thoughts on this diamond I'm considering. Its a 2.5 ct transitional. I've been researching the various threads on old cuts/transitionals. There's a lot of information, and I think I'm starting to get lost in it all. Anyways, I purchased an
idealscope
and made an attempt to take pictures of the diamond with the viewer. These pictures are obviously not professional pictures, as I only had my iphone and less than rock steady hand trying to take the pictures through the viewer. These two were the closest photo approximations of what I actually see. I tried taking an aset image but the hole on that viewer is even smaller and that was a no go with the iphone camera. The aset looks similar to what an H&A would look like, but with the fat arrows in blue.
Some of my general questions:
1) Are the exaggerated arrow patterns considered undesirable in this type of stone?
2) When the arrows are this large, is this considered obstruction, and is that necessarily a bad thing? Or, how do you know when there's too much contrast in the center and its a bad thing?
3) Is there any value in trying to evaluate this type of stone using an
idealscope
or aset? Or is it really 'just use your eyes?' I'm used to having a MRB and there's a part of me that wants kind of 'mind clean' affirmation that this stone is a good performer. But then I got lost in the threads and wasn't sure if this was a good performer based on the images I saw, and I started wondering if I really knew anything at all...
Thank you for your help!