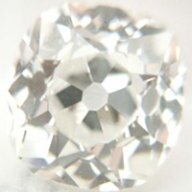 Joined

Jun 23, 2003
Messages

187
Just received my Ideal-Scope in the mail today, and am comparing a stone I''m deciding about with the buying guide on
Idealscope
.com.
My problem is this....the table is slightly lighter than the crown area, and there are some white areas around the edges....When I compare it to the buying guide I can''t tell whether the lightness is too extreme or not. The differences in table lightness between the rejects and the excellents are so subtle that I''m just not sure where my diamond fits in.
The diamond is A Cut Above H&A from
Whiteflash
, scoring a 1.1 on the HCA, Ex Ex Ex Vg, so I do have some confidence in it. If the diamond tilts at all while I look at it with the Ideal-Scope, then I get some very light/white areas around the inner edges of the table. If it''s straight on, then the table is just lighter than the crown.
Please help! --Melissa