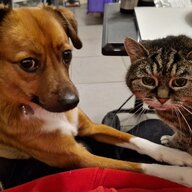 Joined

Jul 7, 2013
Messages

9,416
My ID-style bracelet has arrived, and I love it!



Background:
I have a ring that my mum gave to me that I seldom wear as it did not fit and prefer to wear my own EC rings. It has 6 carre cut diamonds in it.
She also purchased 2 loose diamonds from the same parcel with setting them in earrings for me in mind when she had the ring made nearly 40 years ago. All 8 diamonds weighed 2.768ct, with the largest being the loose stones measuring 4mm x 4mm.
A pic of the original ring: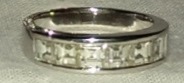 Fast forward to 2016:
I was planning to have a DBTY bracelet made with 8 x 0.20ct stations, and decided against it as this style of bracelet may be too delicate for my chunky wrist and frame.
I decided on an ID-style bracelet for its chunkiness (I had one before and liked it), with the diamonds evenly spaced out on the plate with a Figaro chain, 7.75in in length, either in 14K WG or Platinum. Since I was supplying my own diamonds, I was able to afford platinum
.
Here is a pic of the CAD and the jeweller's pics taken using a phone: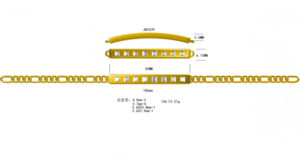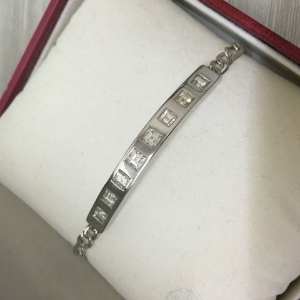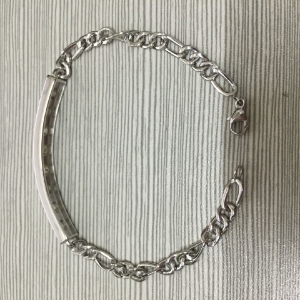 Here are pics of my own taken using my phone: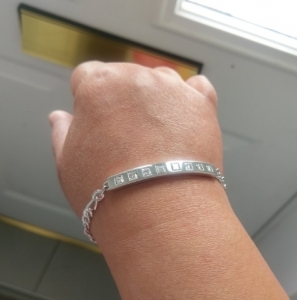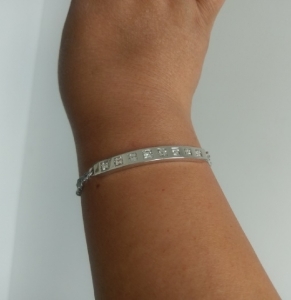 Apart from one slight issue with the clasp being attached the wrong way round, an issue I tried to avoid in the first place by informing the jeweller that I shall always wear the bracelet on my right hand.
In hindsight, I should have been more specific and mentioned I would use my left thumb to pull the trigger open etc...
However, it is only a very minor issue, as I can flip the other end of the chain before attaching it to the clasp, and the chain will right itself when done up.
All in all, I am very happy with it, and have been wearing it all day. To me, it is very versatile, in that it can be worn day and night, on its own or bling up with more bracelets for dressier occasions.
Whether it will curb my desire for a bezel-set diamond tennis bracelet, only time will tell. However, right now, I shall enjoy wearing this bracelet as much as I can.
DK