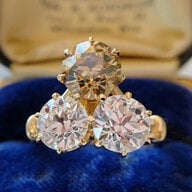 Joined

Jul 23, 2012
Messages

19,559
My apologies it gets wordie but its got a payout.
I was bored one evening in June. I usually will peruse Loupetroop, Ebay, RubyLane and others to find jewelry I may want to purchase, as I am sure many of you do. I was uninspired with the jewels I was finding, as I'd found them many times before. I thought to myself, where can I look that I haven't before. I decided to go to Craigslist because, why not?
Typed in "diamond ring" and found a small return. The majority where Kay's and Jared's rings; Sprinkled in where a few small marquise 80's rings and the random add for a local jeweler. The search resulted in terrible rings except for one that caught my eye.
Listed at 899 OBO was an ostentatious ballerina setting with a cushion cut sapphire. The listing showed some hard to read photos and an appraisal from 1983. Per the appraisal it's a 2.08 sapphire with about 2cts worth of diamonds. I was skeptical but intrigued. I read the listing, in which the seller explained he was an ebay seller. Fantastic! I could go to his ebay site and buy with confidence. I quickly found his ebay listing where he had it listed for slightly less than the Craigslist but without an OBO. It was still more than I wanted to pay, something around $800. I emailed his eBay account to inquire about better, more accurate photos so I could tell what it looked like inside. I was impressed with the color, but after showing it to some of my PS friends – they suggested it was probably helped with photo editing.
I got photos of it indoors, and was still very impressed. The man was nice, seemed friendly, and was telling me about how he ran for local office. I work on the phone for a living. Talking to hundreds of people a week, I feel like I have a good read on people based on phone conversations. Because of this, I thought, he seems trustworthy, let me see if I can't get this done locally. I offered to buy it in cash if he would take 775. He said sure, took the listing off eBay, and offered to meet at a local McDons. He say we "would need to meet soon, "as he had another woman "very interested in the ring", its "very popular." Clearly he was trying to make a sale, but what if he wasn't! bah! I want to see it!
The day came to meet and I chickened out. I was certain I was going to get murdered, and didn't want to do it! I emailed him and told him I wasn't going to make it, but had another idea. I expressed to him that I really did want to buy it through eBay as it would mean I could protect my personal safety and financial safety. I explained I preferred the buyer protection of eBay and would be willing to pay the more expensive eBay price if he would relist it. He said no. He explained he would not do that because I specifically mentioned possibly returning it, and he could not do that as hi "business was very small and has a small overhead."
I was uncomfortable! I said I only wanted to return it if it came back as something other than sapphire, why did he care?! Is he trying to screw me?? I was put off and told him to ignore the whole thing. We didn't email again for a few days. I was still thinking about the ring, though. He emailed me a few days later and said he would consider selling it for $675. Obviously it wasn't as popular as he claimed haha!
My life was important, but this seemed like a very good deal

so was worth the possible murder. I said yes, but we had to meet somewhere safe. I suggested a police station, but that was out of the way, he suggested a church where his kids where having a VBS. I felt as though I wouldn't be murdered in front of a lot of children, so I said that sounded fine.
I met him and he was a little annoying. He kept calling it a Ceylon sapphire (like how would you even know), and suggested I join the church where we met, as he was a deacon. The church had most of the lights off and it was late in the day. The sapphire wasn't as stunning indoors. We took it outside and I was happy with the performance, but it was late in the day, as I said, and the lighting wasn't ideal. I still wanted it, so I paid him and left.
The setting, which is obviously terrible, didn't keep me from sporting the ring out for a few days. After wearing it and staring at it and gushing over it, wouldn't you know it I fell for the setting too! I want to reset it eventually, but not ASAP like I had originally thought
Since I was not going to unset the sapphire right away I figured I might as well send it to AGL set as who knows when it would be unset. I sent it off and it was received on July 1st. As soon as it was received by agl I started to panic! Why didn't I just take it to a local jeweler?! It could have been a tanzanite! Youre an idiot, Niel!
I got an email shortly after AGL received my stone that was very short stating only that my ring was ornate and would require a prestige report. Um, excuse me, what?! That's an extra 100 and I have no need for this. And what if it's a tanzanite! Oh I was annoyed. I emailed them back and told them that I wanted an explanation as to what made it so ornate. Yeah, its gaudy, but its still just a sapphire in a diamond halo. Getting no response back to my email, I called. I got a nice man who looked at it (clearly thought it was hideous ) and said "yeah, I mean its ornate but its fine we can still do a gem brief".
Ok, great. Now I just have to wait and worry I just bought a tanzanite. While I was waiting I found a number of faudy rings no eBay and Ruby lane. All like my ring, and all with tanzanites. None more troubling than the one linked
here
oh my god! I bought a tanzanite!

The whole thing was now making me very annoyed and anxious. Finally today I got a call from AGL. I missed it and listened to the voicemail. "this is the American Gemological Society." Crap. Im thinking…. Ugh it could be an unheated sapphire (yeah right), it could be heat only, (mmmmmmaybe) it could be treated out of its mine (please noooooo!) or it oculd be a tanzanite (ugh it's a tanz im sure )
I call them back to see what they wanted, it was regarding shipping my ring. Results??
Heat only!
! Woop woop.
Im over the moon. I never expected untreated, and I truly expected a tanz by the end. So im so happy with the result!
next, my photos!