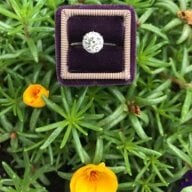 Joined

May 25, 2016
Messages

308
https://www.pinterest.com/pin/557531628845858401/
https://www.pinterest.com/pin/557531628845858393/
https://www.pinterest.com/pin/557531628845858397/
https://www.pinterest.com/pin/557531628845858400/
(I'd probably ask for slightly less rounded petals.)
It's DK. It's the closest I've seen to what I am currently picturing. I like that it doesn't sit super high (right?), has a plain shank, petals, halo.
A band would fit mostly flush-ish to this ring, right?
Initially, I was thinking I would inquire about making a bezel version of this ring. But now I am wondering if that would take away from the look - change it too much? What do you think? I question whether or not it would make a completely different look.
About this current ring - I also wonder if those edges feel less smooth? Maybe I could have him do something with the metal around the halo stones to make it feel less jagged when you move your finger past it/touch it? That is part of the reason I don't want a pave shank - I'd like it to feel smooth all over.
I like this one, too. But there's just this one pic of it:
https://www.pinterest.com/pin/557531628847122307/
I am also drawn to this ring, too, except I wonder if the metal "dots" in between the stones are too big for my taste?
https://www.pinterest.com/pin/557531628843660525/
I am going to reach out to David once I have a handle on these thoughts. I am wondering if anyone has guesses on what a setting like this would cost? (From him.)
Part of my pause/angst is that I am wondering - if I were to go a custom route, then maybe I should revisit the idea of one total ring instead of a ring + band. Some sort of halo type ring with a shank that doesn't look like it is missing a band.
But I haven't found what that might be, really. I do like the halo + band concept, too.
Opinions welcome. I searched DK threads here and saw some pretty stuff, but I didn't see prices mentioned. (Perhaps that is not allowed or is frowned upon here? Or just too personal/tacky?)