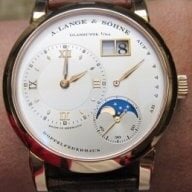 Joined

Apr 3, 2004
Messages

32,407
about 4 months ago on the watch forum i posted a (WTB Lange 1 with moon phase in either RG or PT). a guy from NY emailed me and said he might want to sell his PT Lange 1 with MP and asked me would i be interested in buying his PT watch,i said yes,how much are you asking for the watch?. he quoted a price then i said.. i'll get back with you if i am interested. meanwhile i bought a new computer and i lost his email. then out of the blue, about a month ago, he sent me an email asking if i was still interested in his watch. he was willing to come down on the price. i asked him what was his best price ,then when he quoted me the price i was suprised ...
little does he know he quoted me a price that was $3K lower than what i was willing to pay..
. i love buying these low milage watches from collectors who owns many watches. most of their watches don't receive much wrist time. they just alternate them every month. the RG model would be my first choice but i can't turn down a PT model at close to RG price..

the watch is 4 yrs old but still in Ex condition and comes with all the accessories like a brand new watch.