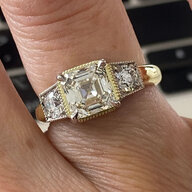 Joined

Jun 25, 2019
Messages

104
A bit long sorry but I'm excited!
I got the diamond bug a few months ago and it's no exaggeration that I spent a good two months researching everything before making my first big purchase. I was starting to dream about diamonds!
It all started with my husband suggesting that he upgrade my sweet .30ct ER but being a fairly fussy man (ie - the process could take a while and he'll want input), I decided that I wanted to buy something for myself that I like personally. I didn't want to rush into my first big ring so to stop myself from making an impulse purchase, I bought a 1ct champagne solitaire. Weird logic I know but having a lovely sparkler (even though she's an I1) meant I could concentrate on research!
So I began my journey only sure of a few things: I wanted at least 1ct (and not .99), a white diamond and set in yellow gold. I swore I'd never get a marquise as they looked odd to me and so my focus was on a pear cut or Asscher. Maybe a cushion.
Anyway, fast forward two months of studying diamonds, viewing over 200 diamonds on James Allen, and working out how to get the most bang for my buck (I only wanted to spend about 4000 USD for stone and setting), I ended up selecting a ring from James Allen. I know they are not everyone's preferred jeweller on PS, but as an Australian buyer, I can't recommend JA more highly. The process was easy and for a first time diamond buyer, I felt pretty reassured. If you're wondering why I ended up buying overseas, I'm sad to say that even with our under-performing Aussie Dollar AND import tax/duty, it's much cheaper buying a ring from the US!
Anyway, I was just about to settle on a K VS1 marquise when for some reason I decided to broaden my colour options and this gorgeous F colour marquise popped up in my search. It was an I1 but looked so pretty in the 360 view. I requested the GIA report for it and while she has a bunch of inclusions, they didn't seem bad to me. I was super mindful of clarity but in spite of everything I researched, I ended up picking the F colour. She's a nice size (1.07 - 10.5 x 5mm) with Faint fluor. I chose an interesting setting (well one that no one else seemed to have picked - no real sample photos) but a prong was likely to hide one area of small inclusions. So I ordered and paid.
A week into ordering, I did worry that I made a mistake. I bugged the online diamond expert so many times for all the other stones I had considered but didn't with the F colour. I probably didn't want to be told she wasn't a good stone. On paper she probably isn't. I finally asked an expert to go over some of the inclusions that worried me a little (in terms of durability) and I was assured that they were fine. She does have a small cavity on her underside but other than that, just needles and white crystals. I guess I'll just have to keep her clean! I also worried that the setting was too fiddly but since it was one that caught my eye from the beginning. I decided to go with my gut.
So the fruit of my reserarching labour arrived today and I am in love! I was worried that I made a mistake getting an I1 but she sparkles beautifully. There is a reasonable needle on the table towards the top but I can't see it. I am hard pressed to see any of the inclusions in fact. With better light and my loupe I'll take a look and cross reference with the GIA diagram tomorrow. I'm not at all obsessed with colourless gradings but I'm happy to have chosen the F over K for this ring. The side diamonds are apparently F as well so being colour sensitive, I would have noticed the difference I feel. As for the setting, it is far more delicate than I imagined. The band is quite thin, which I didn't expect but it's great for adding an enhancer band later on. I had it sized for my middle finger (right/left) but it doesn't look too small. The bead prongs are gorgeous and don't detract from the diamond's beauty. I'm also relieved that I stuck with yellow gold. The contrast against the F is stunning.
I might get my DSLR out to take better close up shots but I'll add a few now. Gahh! I just can't capture the sparkle... I took her out shopping and in the supermarket light, she was magical!
Very, very happy and I feel confident to make a few other purchases via US vendors now.
A huge thank you to the PS community too. I learnt so much and I don't think I would have had the courage to go ahead with the purchase without all the info here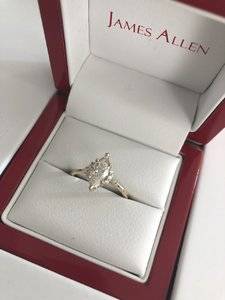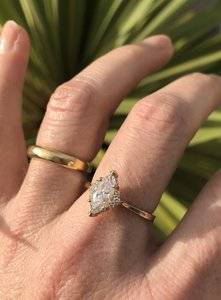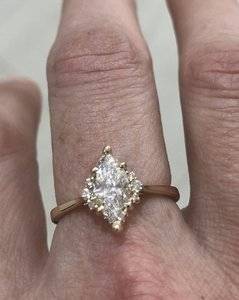 Last edited: