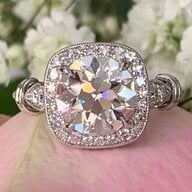 Joined

Jan 11, 2006
Messages

57,984
I have had this struggle ever since I started looking for my upgrade diamond almost 6 years ago! I am in love with two different things! I love the classic simplicity of a Tiffany solitaire and diamond band. That is basically what I started out with originally and ended up with for my upgrade/anniversary set (other than the solitaire is more in the Cartier style). But when I was looking, I also fell in love with a Van Craeynest setting, but I didn't go forward with that because of the high cost of the setting plus I wasn't sure about setting a modern diamond in an art deco setting. In the meanwhile, Jonathan at
Good Old Gold
develops August Vintage cushions and rounds. I think they are the most beautiful diamonds I have ever seen! And nothing could be more perfect for a VC setting, but again, we are talking about premium prices for the setting and stones.
Because I do not really care about large diamonds for myself (love looking at everyone else's, though!), I have thought about selling my perfect H&A diamond and starting over. My problem is that a smaller AV stone and VC setting would take up the whole budget. But I also think I would miss having the Tiffany solitaire (and I would do a Tiffany repro setting this time because I think my current stone is set too low and it is hard to clean the sides with the basket).
I can't really afford to have two e-rings at 1.3 cts. (with higher color and clarity), which is the size I prefer. I could go with a smaller solitaire and then get a 3 or 5 stone AV band in an antique style setting. But then the VC setting would not be in the picture.
So HELP!!!! How do I resolve this???