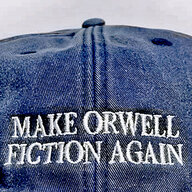 Joined

Apr 30, 2005
Messages

28,204
Negative.
Yeah!

Now, if you want the long story ...
... and we just solved a medical mystery here.
My SO had the regular flu a couple weeks ago.
Dr. put him on Tamiflu and he recovered nicely.
About 2 weeks ago I got an ear infection, so Dr. put
me
on antibiotics.
A few days later I got
violent
food poisoning.
My digestive system emptied itself out completely (both ends) within a few minutes.
As I was rushing from bed to the bathroom I even fainted and fell to the floor while vomiting.
Next thing I knew my SO was holding my head up and turning it to the side to stop the choking as a kept barfing.
TMI, I know.
The combination of the food poisoning's digestive system purge and antibiotics apparently was a double-whammy that annihilated all the good bacteria in my gut.
After ruining two nice new pajama bottoms I wore diapers for a several days.
Lovely.
Suddenly last Friday evening I ran a fever of nearly 103.
Assuming I had a flu, I got tested Sat morning.
Knowing my age and medical condition, the Dr. swabbed me for both regular influenza and C19.
Regular flu came back negative in 15 minutes.
I just got the call informing me I'm negative for C19 too. Whew.
I'm just very surprised at my body's reaction to the food poisoning and antibiotics.
I'm back on the mend.
I just made a half gallon of yogurt, which I think has good bacteria the gut needs.
Last edited: