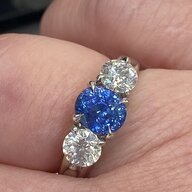 Joined

Feb 29, 2012
Messages

11,068



I thought I bought jewelry cleaner the other day; it didn't occur to me that I bought anything other than jewelry cleaner. So I threw my rings in there and let them soak for 5 mins, opened it... noticed no brush... smelled different..
OH NO!! Its SILVER CLEANER!! And it says only soak silver for a second!!! (Connoisseurs silver cleanser)
My diamonds are the cleanest and sparkliest I have ever seen them. Going to google... anyone have any words of wisdom?? Thanks!!