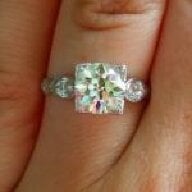 Joined

Sep 17, 2011
Messages

2,319
A few months ago, I woke up at 3 am over here in S Korea to the email alert on my phone...it was one of the sneak peek emails from Jewels by Grace. Totally worth waking up in the middle of the night for, right? Well, I was half asleep and scrolling through the items and then something caught my eye, a beautiful 2.21 M/N OEC. Unfortunately, I fell back asleep mid-email to Grace inquiring about the stone! ACK! By the time I woke up in the morning and sent out the email, the diamond was already on hold. Grace let me know I was next in line, so I (im)patiently waited, expecting the person ahead of me would purchase it. Lucky for me, a week later I heard the stone was available! Of course I responded to Grace with a big ol', "YESSSSSS it is miiiiiiine!!!!"
The next step was to find a setting. While I was "patiently" waiting to hear about the fate of the stone, I saw a picture of the stone in an antique setting very similar to Circe's beauty. It hadn't been listed and there was no folder of pictures on it, so as soon as I found out I was able to get the stone, I asked about the setting. Again, I lucked out-it was available and my stone fit!
I can't say enough about Grace-she was absolutely amazing through the whole process!!!
I won't even pretend that my pictures are anywhere near as nice as Grace's, so here is the link to her pictures:
http://jewelsbygrace.smugmug.com/Client-Folders-/225-for-S
http://jewelsbygrace.smugmug.com/Loose-Diamonds/SOLD-Loose-Diamonds/221ct-Old-European-Cut-Diamond/
Stone info:
2.21ct M/N, SI(pronged chip), 8.38mmx8.34mm