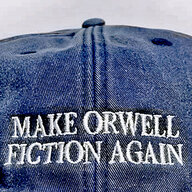 Joined

Apr 30, 2005
Messages

32,292
Today I attended a composting class provided by my city.
It is required by law to reduce what goes to landfills so they offer free training and deeply discounted composting equipment.
They covered the two basic types of composting, backyard composting and vermicomposting with worms.
Since I have little landscape material to compost worms were the better choice.
If you follow directions there is no smell; in fact it smells fresh and wonderful, like a walk in a forest after the rain.
In fact, many people keep the systems right in their kitchens.
The heart of the system is a tray with holes on the bottom.
You start with one but eventually can use two or three stacked up.
(Pictured below is only one of the breeding trays above the tea tray.)
The breeding tray(s) are on top of a water-tight bottom tray with a faucet for the "tea".
This tea is a liquid byproduct of the process, and is claimed to be one of the two best fertilizer on the planet.
The other is the worms castings (poo) themselves which build up over a few months.
When the castings build up high enough to touch a tray above it, you put on another empty tray.
Then you put the food in the top tray, where the worms will eventually migrate.
Then you can take the lower tray, full of castings, and mix those into your soil and watch your plants go crazy like they were on crack.
Besides getting the best organic fertilizer in the world for free you stop sending kitchen waste to the dump.
I'm told that 25% of what we send to the landfill could have been composted and DOES NOT decompose into anything healthy and useful in the landfill.
It came with a brick of compressed brown coconut husk substrate material.
Soak in water for 15 minutes and put it on top of a thin cardboard layer on the bottom of the tray.
The cardboard, which quickly disappears, prevents the new coconut husk substrate material from falling through the mesh.