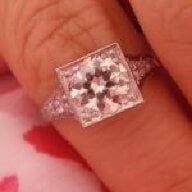 Joined

Aug 13, 2011
Messages

509
To all the dear posters and lurkers who've helped me get this far I'm suddenly really nervous about picking up the ring tomorrow. Since I've never bought or worn any jewelry I am asking pricescopers advice. Is it normal to be anxious - what if I don't like it as much as I thought I would?
The ring will come with an appraisal from the jeweler and the diamond certificates (diamonds are engraved). The jeweler has an exchange policy if I'm not happy with the ring for any reason. The jeweler offered to take the ring for independent appraisal before delivery but I didn't feel it was worth it given the value (and it's not an e-ring).
How can I manage my expectations and avoid a last minute change of mind?
When I see the ring, is there anything I should be examining before final payment/delivery?