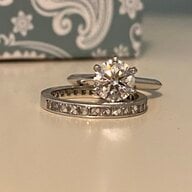 Joined

Apr 11, 2011
Messages

631
I know this probably isn't the place, but I just need to vent. I've never been that girl who dreamed of her wedding all her life, but when fi and I decided to get married I wanted to make it a special event. After talking to our families, we decided to keep it small - about 70 invites. My parents (my mom specifically) have been great. They offered us a very generous gift that is covering about 1/3 of the cost. We are covering the rest. I've planned a really nice wedding. Nothing crazy, but nice. And it's a bit more expensive than I'd like, but still very reasonable.

My future in-laws have been...not so great. My future FIL is a notorious cheapskate. So, after a couple months went by without them saying anything, my parents called and asked if they were going to host a rehearsal dinner (because they were going to if my future in-laws didn't). I guess that embarrassed them into offering, because they did. Then they asked if we could have it 15 miles from my venue (when most of the guests are from out of town and nothing else for the weekend requires a car) AT THE SAME PLACE MY FIANCÉ HAD HIS REHEARSAL DINNER FOR HIS FIRST MARRIAGE. Finally we settled on a restaurant closer to the venue and with no ties to the past. It seemed everything was calm.

Now, with 6 weeks to go, all hell has broken loose all over again. My future FIL is being a jerk about a business deal that both he and my fiancé were involved in. At some point, future FIL actually CALLED some of their mutual business connections and told him that fi had "un-invited" him to the wedding (this is entirely untrue). Fi was originally very upset but has since (on his own) re-centered his thinking and has apologized for some things he's said and told his father that he doesn't care about the business deal, he just wants to make sure we have a nice, peaceful wedding. His father did not accept his apology, and I feel this bodes poorly for the peaceful, happy wedding day I was hoping for.

Apparently, my fiancé's younger brother is saying he might not come to the wedding because he hasn't heard from us much (which is true, but it's not like he's called or anything). Frankly, I don't REALLY care if he comes or not, but I do think it's somewhat amusing as we just spent an hour last weekend picking out readings we were going to ask fi's brothers to do at the wedding. We just hadn't called them yet because the same brother who is saying he might not come is out of the country and we were waiting until he was back!

Fi's mother is just very emotional and I fear that if this kind of behavior continues, she's going to be a sobbing mess our entire wedding day. Which is especially hilarious because she was having trouble finding a dress but found something in black she liked and I told her that I did not care if she wore black, I knew she wasn't "mourning" me marrying her son. So, I guess she'll be a sobbing mess in black...