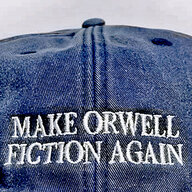 Joined

Apr 30, 2005
Messages

30,203
Well, actually when warming up for singing I to the the ... me me me me me ... thing.
Meme is the most annoying term since paradigm.
WFT is a meme?
Oh never mind; I refuse to even look up what it means.
Apparently meme is a whole new paradigm.

Now, you kids get off my lawn.