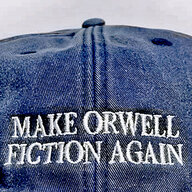 Joined

Apr 30, 2005
Messages

30,742
A few years ago I had cancer surgery ... a radical prostatectomy.
I chose the best local surgeon even though he was not in 'in network' of my ins co.
That meant I had to pay 50% of the surgeon's fee instead of the usual 10% or whatev it was.
The hospital bill itself was separate.

He and I worked out a nice payment plan, only $25 a month, and no interest.
Too good to be true, you say? Well it just got better.
After making all my payments on time for a few years he just canceled my debt ... gone ... poof ... I still owed him many thousands of dollars.

Weird.
I figure his accountants must have told him it cost them more than $25 a month to service my account ... or something.

So weird!

Have you ever heard of such a thing?
I don't know whether to send flowers and a card or keep my mouth shut in case it's an oversight ... but the CS person told me the zeroing of my balance was coded, "Professional Courtesy".

It's not like we are friends.
I haven't even seen or spoken to him for years.

They say, "Shit Happens", I guess Lobster with drawn butter and cheesecake happen too.