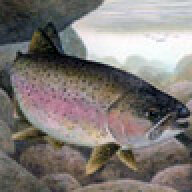 Joined

Dec 2, 2005
Messages

2,105
Hey girls, sorry no time long see...I FINALLY just got internet working again in our apartment after something of an odessy.
So anyway, I went back to the States last week to take care of financial business and visit FI...and we totally unexpectedly bought The Dress. I work on Newbury St in Boston when I''m home, and I popped in the uber-fancy bridal boutique next door to look at the pretty dresses I can''t afford. And it turns out those pretty dresses have a sample rack, and that that sample rack is a goooood deal.
I still wasn''t planning on buying anything until the saleswoman talked me into trying this dress that looked horrific on the rack (seriously, bad enough that I had called FI and specifically mentioned how un-fashionable it looked. Well, I tried it and it looks WONDERFUL.
Plus, since others evidently also thought it looked bad on a hangar, it''s barely been tried on and is in excellent condition. It needs to be taken in through the bodice, but we had them write the alterations into the contract. All in all, we paid 500 for it, which I think is a solid deal for a B&M boutique. (I decided I didn''t want to buy off the internet)
So without further ado, it''s Watters and Watters 3064b, floor length, no train.
No pics of me in it, sorry.
I''m not sure about getting it dry cleaned...there is a tiny bit of greyness around the bodice line from it being tried on, but that''s about it. Right now we just have it hanging in a garment bag in the closet.
In other news, anyone who remembers me might remember I''m mildly obsessed with making the cake for this thing--plans proceeding nicely, made 5 cakes while visiting the States and now the people at FI''s work LOVE me since I sent them all with him so I would eat something besdies cake all day! Buttercream is wonderful, but it''s a little tricky to get that perfect smooth finish. Getting there though. I still cannot *believe* how much butter is in these suckers. Cardiac bypass, here I come!