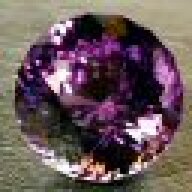 Joined

Feb 12, 2009
Messages

427
I am supposed to be ordering my diamond tomorrow. Well, I am supposed to be ordering
A
diamond tomorrow. Not sure if it will be the one.
K Asscher.
I went into Mervis Diamond Importers today, not to look at their merchandise in any serious fashion, just to see an asscher in person so I could be sure I was making the right decision shape wise. She brought out a 1.5 I and I stopped breathing. Needless to say, I'm definitely going with an asscher. They just speak to me. I loved the diamond, and she asked me what type of setting I was interested in. I told her less than 2mm shank with pave. She brought me back a stunning setting, and she set the asscher into the prongs and gave it to me to look at. I hadn't been able to see the color before, but when set into the pave setting, I could see slight color. And that was an I. I'm very nervous about the K I'm supposed to be ordering tomorrow. Of course, there is a 30 day return policy, so that makes me feel better, but I wish there was some way for me to look at the K in a setting (not mounted, just sat into the prongs so I can see what it would look like.)
Asschers face up really small, I know that, which is why I wanted to go with 0.70ct+ instead of the 0.50ct range I was originally looking at. But stones in that range are out of our budget. I found the 0.85 K for a GREAT price. And it has received the coveted Storm Seal Of Approval. And now I'm all nervous because I've never made a purchase like this that was so IMPORTANT and expensive. I'm just getting jittery.
This post kind of turned into me needing to get this out somehow. But what do you guys think? Am I freaking out for nothing? I have a tendency to overreact to things.. Or should I lower my carat range and up the color? I have size 6 fingers, and a halo setting is out of the question budget wise right now, but I want decent coverage.
NOTE: By the way, for reference,
THIS
is the setting it will be in.
ARGH. I'm going to die. It's finally real and I'm scared.