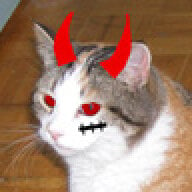 Joined

Nov 19, 2004
Messages

3,429
Oh my gosh, I am seriously FLIPPING out.
So we have neighbors that have 2 dogs. HUUGGGE dogs. A german sheperd and a lab/pittbull mix. Now I just want to say I love dogs, I don''t own one but I love them. But the fence between their property and ours is kind of falling down. They have an underground pool and two dogs which they let out at all hours of the night...which barks at 2:00 am. And the dogs are freaking aggressive and I''m scared of them.
YESTURDAY, the dogs squeezed between the fences and were in our yard. I noticed them tearing into the garbage bags. So I went to the neighbors house and knocked, and politely told them their dogs had gotten free. No mention of the trash. The guy did not fix the fence, instead put a wheelbarrow in front of the hole between the fence and the hedge (whoa...what a solution genius

)
So TODAY at 18:00 I hear the woman in our driveway and she is calling the dogs. I hear my fence to my yard open, and figure she''s going into our yard to get the dogs. I was studying and thought, "oh the dogs got out again", didn''t get up from the couch. In any case at 20:00 I decide to go look at my birdfeeder, because that''s what I do when I am sad.
So what do I see? There is trash scattered ALL OVER the backyard. ALL OVER. The dogs ripped 4 of our garbage bags and scattered it everywhere. I took freaking pictures.
But here''s the kicker. Our neighbor didn''t even BOTHER to pick it up. And I think assumed no one was home (the car is gone) but DIDN''T even bother to TRY and ring the bell to tell me what had happened. What is wrong with people?????
So a) dogs in the yard b) you come onto my property to get the dogs without asking me c) the dogs tear the garbage d) you don''t pick it up e) the kicker is that you don''t even bother to ring the doorbell to tell me?
I seriously had my coat on and I was on the phone with FSIL to go over and tell them to pick that stuff up AND tell them they have to fix THEIR fence. But the guy is a bit *special* I don''t know, scary, so FSIL told me not to because it''s dark, no one is home or around me, and she was afraid I would have an altercation and it wasn''t safe.
I think I''m calling the city tomorrow and complaining. I''m not even going to bother with these people. Or call the police. I feel this is wrong on so many levels. I think there is steam coming out of my ears right now.