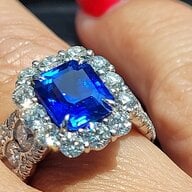 Joined

Feb 22, 2008
Messages

5,061
I got a call from one of the my nephews a week ago asking me to help him persue the perfect marquise diamond for his FF. Always happy to spend other peoples money, I was up for the challenge. After making a few calls to several vendors, I decided to click on one of the James Allen banners here on Pricescope.............and the search was OVER! In fact, it seemed effortless! I called and spoke to a gentlemen named Darin. We discussed 4 different marquise diamonds that I looked at on the JA site. We narrowed it down to 2............and then to "THE ONE". This was actually the one that I personally felt was a winner. I know Marquise diamonds are not the most popular shape to true diamond lovers as they are classified as "so 1980's"...but I have to say the diamond left both my nephew and I BREATHLESS. Imagine how faint he is going to feel after he receives it back from Leon Mege in it's classic 3 stone setting with pear sidestones. (but I will leave that for another thread!!

) Thanks so much
James Allen
for you impeccable service and helping us to find that perfect shaped marquise diamond. Above all the 4 c's ...the shape was the biggest key in finding a marquise. I love the presentation box that the diamond came in- along with the beautiful cherrywood box. I am beyond impressed. I hope to make a purchase from
James Allen
myself in the near future. BTW, no one could come close to the price of this diamond.........and pricescope members get a discount too!!!!!

I would love to post pictures of the diamond. Can someone tell me why it won't let me post pics. Does this post have to be "approved" first? I have not had any problems in the past posting pictures with my testimonial??

Specs: .70ct
E, SI1
8.82 x 4.57x 2.90
ratio: 1.93 P.S. I think that is awesome that the
JA
website will let you view the diamond in question. That was what made this process so much easier.