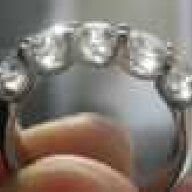 Joined

Nov 2, 2004
Messages

1,617
My husband walked out on me and our 7 then (now 8 year old son one evening. I got the "we need to talk" conversation in August and next thing I knew he was walking out the door on us after 18 years of marriage, at 11PM. Thankfully I have a very supportive family who has helped my son and I. He and I are amicable - there is no hatred between us. We are co-parenting well and I hope it stays that way for our 8 year old - who is adapting to this in an unexpectedly positive way. His school is aware and has been very helpful and placed him in a group for children whose parents are going through divorce or have already done so. Every time our son goes with his daddy, I put on a smile and then crumble once they leave.
Never thought I'd be in this position in my life. I found Pricescope in 2004 and my now ex (so strange to say) has always been supportive of my love for jewelry and if it weren't for him, I wouldn't have have most of it, nor my visit to Whiteflash, or worked with Brian Gavin Diamonds or ID Jewelry. All which provided great service and produced beautiful jewelry.
A lot as changed here it seems from my regular days - old members gone, new ones arrived. I want to say to

to everyone.