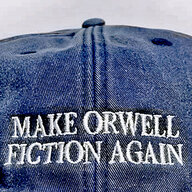 Joined

Apr 30, 2005
Messages

30,332
After 3 weeks my jury duty service is finally over.
Charge was 1st degree murder.

They took 3 votes during jury deliberations; every time it was 11 guilty, 1 not guilty.
Prosecution's evidence and witness testimony was a slam dunk, well it was to the 11 with functioning brains.

The coroner testified that 3 of the 6 gunshots caused wounds that were fatal, through the brain, the heart and the liver.
Coroner pics of exit wounds were hard to view.
It happened outside a bar in a rough part of town.
The bar's 6 video cameras captured everything.

The holdout juror kept insisting judging is against the Bible, even though all jurors were told (both before the trial started, and after closing arguments) the law and jury instructions explicitly state that jurors must put personal beliefs aside and decide the case based ONLY on the evidence and witness testimony presented in the courtroom.
She violated the law, so now a murderer may walk free, or there may be a retrial.

The defense attorney lied through his teeth.
He mentioned God and we jurors risking our eternal life with a guilty verdict for an innocent man, easily 40 times over the 3 weeks.
Nobody stopped him or objected to his extensive religious preaching during the trial.
The bastard knew exactly what he was doing ... blowing a dog whistle heard by members of the huge club of brainwashed and easily-manipulated fearful people.
It worked.

What ever happened to separation of church and state?
I am pissed!
Last edited: