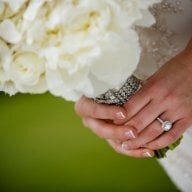 Joined

Apr 26, 2008
Messages

650
So... we are doing assigned tables but not seats. FI has calligraphied everyone''s names and their table numbers will be on the placecard. They will be arranged like the photo below. They will be displayed in the foyer which guests will have access to before the ceremony since it will be adjacent to the guestbook table, but someone will be standing there advising them to pick them up after cocktail hour. Our venue is kind of strangely laid out as guests will have access to the foyer, and therefore placecard table, to use the restrooms during cocktail hour but the ballroom will be closed until cocktail hour is over. The thing is, we want to be sure guests know when to proceed into the ballroom we need to make sure guests take their placecards to their tables because there will be a stamp indicating each guests'' entree choice. I guest my fear is that they will pick up their cards early, lose them, and then the entree service will be more challenging for the staff and people won''t know when to go from the cocktail hour to the ballroom.
My question is, FI is going to calligraphy a sign to put at the table that says such, but these seem to bossy to me!
We were thinking something like..
Please take your placecard with you and find your seat at your assigned table at 7:15 pm.
What do you think?