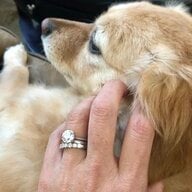 Joined

Mar 13, 2004
Messages

3,937
I have seen a lot of posts on PS about big knuckles or swollen puffy sausage fingers and I have just found a quick and easy solution to reducing knuckle/finger size instantly!

My knuckle on my ring finger has been going through a lot of abuse lately because I have been trying out new stacking rings, settings a lot lately. I noticed that my knuckles were constantly red and puffy and rings were getting harder and harder to take on and off. Well, I decided to to wrap my finger with gauze that I soaked in witch hazel, and voila, after about 15 minutes my finger shriveled and shrank and the redness went away! I was able to easily remove my ring stack (which I wore over night) for cleaning!

I always knew witch hazel could reduce inflammation (acne, hemorrhoids) haha, never knew it would work on swollen knuckles/fingers. I'm going to have to do this treatment before ring photoshoots from now on!