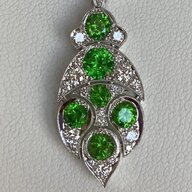 Joined

Jul 3, 2012
Messages

333
Hi everyone - long time, no see! I've taken a long break from Pricescope, during which time I have only acquired a very limited number of new stones, and none that I have set. However, I have a real weakness for Russian Demantoids. Unfortunately, they are difficult to find in larger sizes (and typically unaffordable when you do see them), so I've only managed to collect several smaller stones. I'd like to set them into a pendant, but I'm not having much luck in finding a design that I like that incorporates a number of smaller stones vs emphasizing a central, larger stone. In terms of style, I am mostly drawn to vintage Edwardian pieces, followed by some Art Nouveau and Art Deco pieces. I prefer platinum, like halos, and think almost every colored gem piece is better with diamonds for contrast
So far I have 8 demantoids. All are Russian with horsetail inclusions. Some are explicitly unheated; others with low heat. They are not perfectly matched, but I think the varying colors are still complimentary. (The 2 tiny yellow stones are 2.8mm topazolites / yellow andradites) Probably 3 of them are superior over the others in terms of color, but they're all appealing to me. One of the pictures is blurry, but I'm including it because it shows the neon-ness these garnets exhibit with indirect sunlight shining in from a window. They look even better and much more sparkly/fiery outside of the case, sitting on my hand - really earning the 'diamond like' description - but I was too scared to attempt a picture for fear I'd send the little stones flying.
The sizes are:
4.4mm x 3
3.7mm
3.8mm
3.2mm x3
I'm still hoping to find a 5+mm stone at some point, but I've already been waiting awhile with no luck.
If anyone has any designs they've seen that incorporate a bunch of smaller stones (preferably vintage-y), I'd love any help I can get in trying to come up with a way to set these lovelies!