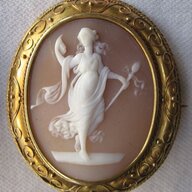 Joined

Apr 17, 2002
Messages

3,563
Has anyone recently been in touch with Julia Kay Taylor, the wonderful jewelry designer who works in Argentium silver (and other metals)?

Last year, the stone fell out of the ring she made me many years ago (my own fault, not hers!), and I emailed her about repairing it. She was moving her studio and asked me to get back in touch in a few weeks. What with one thing and another, a few weeks stretched out into months. I just emailed her again, but my email bounced back. Googling her, I found an obituary for someone with her same name, who passed away March 22, 2018. I'm really hoping the woman in the obituary is a different Julia Kay Taylor.

Does anybody know whether our beloved jeweler is still alive and if so, how to reach her?