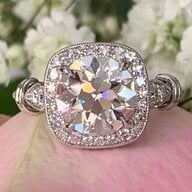 Joined

Jan 11, 2006
Messages

58,101
Excellent new article on the GIA site by Al Gilbertson:
http://www.gia.edu/gia-news-research/how-protect-diamond-chipping
The article starts out explaining diamond durability which includes hardness, toughness, and durability. It then explains how to minimize the risk of chipping a diamond. There is an explanation of each of these points in the article. It is an important article for diamond owners to read, and a reminder to be sure our diamonds are insured!
1. Avoid shapes with points or sharp corners
2. Protect the culet
3. Avoid girdles with very thin sections
4. Choose a setting that protects the diamond
5. Use caution with tension settings
6. Regularly inspect prongs for damage
7. Don't wear a diamond that has already chipped
8. Be careful with inclusions near the girdle
1. Avoid shapes with points or sharp corners
2. Protect the culet
3. Avoid girdles with very thin sections
4. Choose a setting that protects the diamond
5. Use caution with tension settings
6. Regularly inspect prongs for damage
7. Don't wear a diamond that has already chipped
8. Be careful with inclusions near the girdle