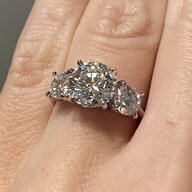 Joined

Oct 22, 2002
Messages

57
My fiance bought me a beautiful 2 carat diamond and had it mounted in a very simple setting. The stone he bought was not plotted and not laser-inscribed. I know he should have gotten this done beforehand, but now I am very VERY worried that when the stone is placed into the real setting, which I am getting at the same store where he purchased the diamond, that they will switch it on me! We have all the data on size, clarity, etc. but there is no way to be SURE... And I doubt they will let me watch the stone as it is being set...
I would like to get the stone plotted now, but can they do that without taking it out of the setting? (if they take it out of the setting, how do I know they're plotting my original diamond? they'll probably take it in the back to clean it first...) Also, when it's in the new setting, will I be able to examine it to see if it has the same plotting, or does it have to be taken out AGAIN for that? (then you run into the same problem all over again when they re-set it)
Please help, I am so worried about this!
-Karen